Estate Jewelry for Sale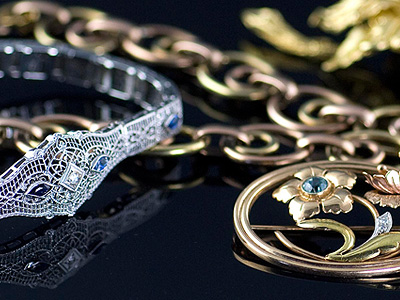 Our Estate Sale Company is extremely passionate and knowledgeable on all types of men's and women's estate jewelry for sale. Jewelry is one of our top selling items during Estate Liquidations. Of course Gold, Silver and Platinum Estate Jewelry for sale can be usually of higher value, many other forms and styles of jewelry are can be found in our Estate Liquidations.
Our Estate Sale Company has had great success in liquidating various kinds of jewelry such as Gold, Silver, Platinum, Diamonds, Gems, Navajo and Zuni, Semi precious stones, Costume Jewelry, Designer Jewelry, Plastic and Bakelite, Victorian, Edwardian, Taxco Mexico Sterling Jewelry, Modernism Jewelry and even base metals.
Whether your Jewelry for sale is heirloom quality, handsome, old or new, sparkling or just plain fun and quirky, our Estate Sale Company will appraise, price and evaluate each piece of jewelry for sale to get you maximum profits.